We are excited to welcome you to the OST Ostschweizer Fachhochschule, Campus Rapperswil, located at the Lake Zurich in Switzerland.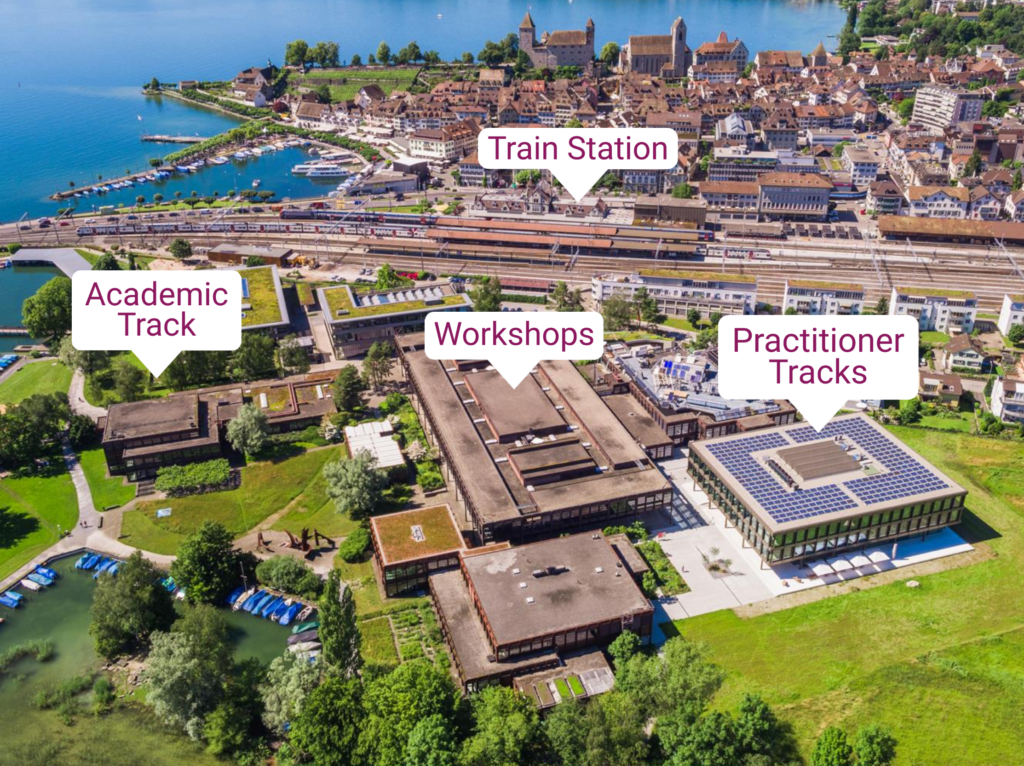 Registration
The registration will take place at the entrance of building 4. You can register between Sunday and Wednesday
from 8:00 a.m. until 6 p.m. (until 11 a.m. on Wednesday). You will find appropriate signposts on the premises.
Infodesk
The Infodesk in Building 4 will be staffed throughout the conference and will offer assistance with any request. Here you will also find a notice board with interesting information, tips and events.
Phone number (e.g. WhatsApp): +41 793754850
Opening hours:
8 a.m. until 6 p.m. (until 11 a.m. on Wednesday)
Wardrobe
A supervised check room for clothes or luggage is available in building 4.
The opening hours are yet to be announced.
Wi-Fi
Wi-Fi is available on the campus grounds. You will be given the access data during the registration process.
Catering
Lunch from Sunday until Wednesday is included in the registration cost.
Please bring your own reusable water bottle and cup to promote sustainability, reducing the use of disposable items at the conference.
Power
For devices with Schuko plug you need an adapter, because Switzerland uses J-plugs. However, the Euro plug (plug C, oblong-oval, with two connections without grounding) also fits into Swiss sockets.
Conference Map
The conference map includes key locations such as conference buildings, accommodations, supermarkets, and more. You can add these points to your personal Google account for easy access from your phone.
If you want to view the interactive map below, you accept to request data from external Google Services from your browser. You can also access the map here.
Waste disposal
Waste disposal in Switzerland is relatively simple.
PET bottles -> PET collection
Paper -> waste paper
Cardboard -> waste cardboard
Aluminum -> Aluminum
(Almost) everything else (plastic packaging, Tetrapak etc.) -> garbage
General information and tips for your stay in Switzerland